Post by chrisangelo on Mar 14, 2009 23:27:10 GMT -5
*** I cannot believe I am posting this. Only because it's my first solo story since...forever? Well anyway here it is. I don't have a beta for this so sorry for the mistakes! ***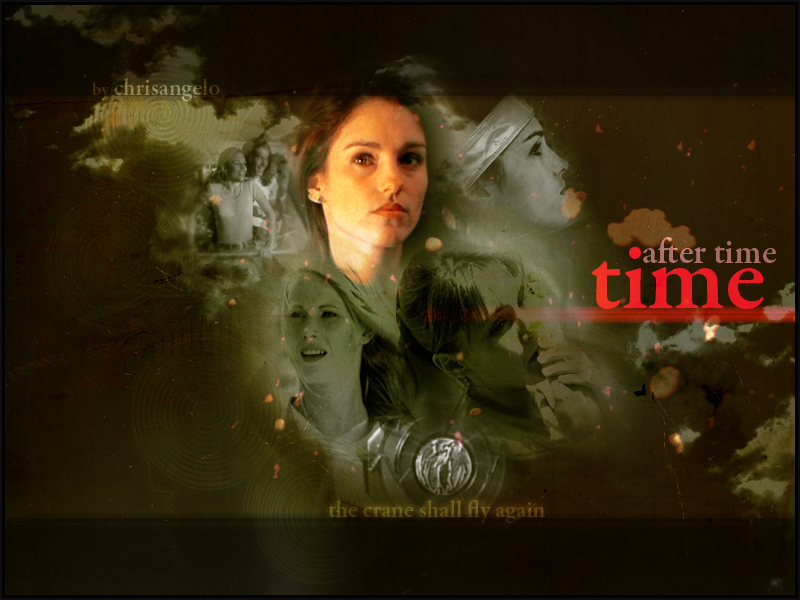 Title
: Time After Time
Rating
: T
Summary
: AU Season 3. Katherine is forced to give up the Pink Ranger powers when she slips into a coma. Unknowingly Kimberly has been slowly regaining them. But the question is, will she give up the Pan Globals, to return to Angel Grove?
Timeline
: Set in season 3, Kim already sent the letter
Author's Note
: Just as a quick reference. I know MMPR was set in the 90's, but this story will be set during the present time so any music you see/any references to the 2000's, you'll know why.
I'd like to also thank Cathy for this amazing challenge over at Perfect Chemistry. I've owed her this for awhile. Credit for the title goes to Shawn.
- - -
Chapter One
: Have you made your bed?
Another night… another party… another chance for everyone to lose themselves with the temptations that surrounded them.
Ever since sending the letter, Kimberly's life had slowly started to crumble. It wasn't all at once, but she continued to lose herself more every day. At first she was living with her decision. In all honesty there was no other guy, not even coming close to one. She developed several insecurities after being away from the only home she has ever known, and the only family she has ever had – those being Angel Grove and her friends, respectively. It was hard for Kimberly to make acquaintances, let alone form friendships that would last her through the days that she would be in Florida. A form of depression started with the former Pink Ranger, her focus completely drifted, and the light-hearted, bubbly, and loving personality that was Kimberly having ceased to exist. She thought it was because she immensely missed Angel Grove, the guys, and more importantly Tommy, but it didn't go away. She knew that Tommy and her friends were risking their lives trying to protect the world, and even if it made her selfish, she still wished they would have had more contact with her. Ironically the only one that ever seemed to be available was her successor, Katherine.
At first she could genuinely say that Kat had a very good ear to listen with, and that she was gaining another friend. Her faith in Tommy hadn't faltered, but the more she heard Kat talk about her experiences in filling her shoes, the more she started to realize something. That something being that she no longer had a place in the family that she felt like was her own. She wasn't an active Power Ranger, she was losing contact with her best friend Aisha – who seemed to have instantly taken a liking to Kat, and she no longer could be with her boyfriend almost every day. Jealousy was never something that was Kimberly, but she slowly found herself becoming green with it.
She spent constant nights awake wondering if this was the right decision. Kimberly had written the letter over and over, so much that her pink coated steel trash can was filled with crumbled up paper after paper. She tried to call Tommy every night that week, but he was never around. He was probably too tired to pick up the phone, but even as that might have been, it didn't help her any more in undoing the wrong she was about to do, or in her eyes the right. She didn't feel needed, in fact she felt like the others didn't even believe she still existed. They all had their own lives now, and none of them included her. Besides her growing longing for home, and her increasing depressed state, she also was making mistake, after mistake with her training. She wasn't focused, and every day she was reminded about how lucky she was to be here, right now. She never had a coach, she had talent, but so did the other hundreds of girls that were here. Training for the Pan Globals was the last thing that she had left. She gave up her powers, she gave up her home, she gave up her friends, and apparently she gave up her boyfriend too.
The last thing in the world that she would ever want to do is to hurt Tommy. He had been her best friend, her confident, and her boyfriend. He was there through the bad times, and this letter was the hardest thing that she ever had to write him. Whether it was done intentionally, Tommy had hurt her, hurt her by not being there for her in what appeared to be her darkest hour. He had been there through so much, to not have his support now was more than she could bear. Kimberly knew that if she was going to write this, there had to be a reason, a way that Tommy wouldn't come after her. Tommy was just the type of guy to fight for her, to not ever willingly give her up. So the letter began, and mystery boy was created that stole her heart, and the final point being that Tommy was just like a brother to her.
The last thing that she would ever want to have happen would be for someone other than Tommy to receive the letter. She didn't want one of his parents getting it, or even one of the 'guys'. Kimberly sent it to the Youth Center that day, only to come back to the dorms to receive a call from Tommy.
-*-
"Hello?" Kimberly's voice was hoarse, and her words were shaky, giving enough evidence that she was upset and had been crying. She had cried the entire time while writing the letter, and then after sending it.
"
Kim, Beautiful what's wrong?
"
It was Tommy… Tommy was actually calling her. As if she couldn't feel any worse right now, the boy that she had just sent a break-up letter to was calling her. After a week of silence, after a week of praying that he would call at the right moment so she wouldn't have to send the letter, he had to call.
"Nothing… nothing's wrong Tommy." Kimberly held the phone away from her ear as she quickly sniffled and wiped away her tears with the back of her hand.
"
Kim… Kim come on. I can hear you trying to hide it. Did something happen at practice?
"
Having heard that after bringing the phone back to her ear, Kimberly just shook her head knowing that if Tommy would have called, he would have known. She tried not to be bitter though, but she also tried to be reserved. The moment she sent the letter, their relationship was over. "Yeah…" Lie. "The Coach is just really tough… I just can't focus right now."
"
You'll do great, I know it. There is no better gymnast than you Kim, and even if there were, I know you'll put your mind to it and become better. Nothing has ever stopped you so don't let it now-"
Hearing his words of encouragement… his words of support, and the loving tone that was sent through them was enough to bring Kimberly back to her tears. She couldn't hear anymore, she couldn't handle it. "Tommy...thank you but I have to go." Her voice almost cracked as she bit her bottom lip, holding back tears. "I love you Tommy, remember that, okay? I have to go. Bye Tommy."
Kimberly shut her cell phone and fell against her bed, covering her face with her pillow as the wet orbs started to pour from her red stained doe eyes.
-*-
Kimberly found herself walking down the stairs of the 2 story deck, to the ground level where the party was taking place. Everyone was dancing, and seeming to have a good time, but like always, she wasn't able to. Kim could clearly hear, Fergie's "Glamorous" through the speakers that surrounded the place, and she heard everyone singing along to it. Sure it was a popular song, and one that even Kim could enjoy, but with the mood she was in, nothing was going to make her smile.
Determined to get back to her dorm room, before she lost the only thing she had left and was kicked out of training, Kim tried to move her way through the dancing, intoxicated athletes. This entire party was set up as a way for celebrating for making it through 3 months. Kimberly would have been returning home, for Christmas, but having sent the Dear Tommy letter, her plans changed.
"Hey Kimm-"
Turning around out of hearing her name called, Kimberly collided with one of the guys, causing her to fall towards the ground. Even with her gymnastics training, she probably would have stumbled some due to her mood, but nevertheless, Kimberly caught herself, her palms barely grazing against the paved ground. She felt somewhat light headed, but she also felt her mind clear up some. As graceful as her fall was, the next thing that happened wasn't so graceful at all. At first she was in shock from the liquid hitting her back, but she also felt angry as her senses kicked in and she knew what happened.
Kimberly pushed herself up and pushed the guy that poured his drink on her. "Back off! What the hell was that for?!"
Ben, the highly intoxicated boy she knew, pushed her back, grabbing onto her blouse that was now half ruined. He fisted the clothing in his hands and pushed her back against the tree. "I was just…trying to have a little fun!" His words slurred some, for obvious reasons, and his grip was hard at first but as the seconds passed it loosened.
Kim wasn't sure what came over her, but Kimberly pushed her knee up in between them and pushed him backwards, enough strength coming from her to send him back on the ground. "Don't touch me!"
As if things couldn't possibly get worse, Lynn, Jamie, and Katy – three of her 'friends' were coming up to see if she was alright.
"Kim, are you okay?" They all three said in unison, their high-pitched voices merging.
Taking the opportunity to turn around, Kim ran her hands through her hair and then put her hand in the air as she started to walk. "I'm fine guys; I just want to be alone!"
Kimberly returned to her dorm room, after taking a sprint the entire way from the party. She pulled her blouse off of her and walked into her bathroom. She saw that the alcohol managed to soak her hair, the back of her bra, and the shorts that she was wearing. She let out a sigh and continued to get undressed. As Kimberly started the water, and stepped into the shower, she could have sworn her eyes were deceiving her. Her arms looked as if they had pink worms of light encircling them. "I'm just tired…" She rubbed her eyes roughly and then stepped under the water.
After ridding her skin of the smell of alcohol, and finding herself in a pair of pink pajama bottoms and a white tank top, Kimberly sat down by her bed and reached under, pulling a silver steel box out. She lifted it open and looked over the Pterodactyl coin, and the pink wrist communicator. Zordon had insisted that she take both, especially the communicator if she were to ever find herself in danger. She put the communicator on her wrist, the cool metal feeling perfect to her skin. In moments like these she found herself wishing she could contact Tommy, contact anyone. She gave Tommy up with the intent that he would hate her, and she knew she had succeeded. Not only had contact ceased from Tommy, but the other rangers hadn't even attempted to reach out to her. She understood where their loyalties stood, and she couldn't deny them or blame them for it.
Needless to say, Kimberly didn't get a moments rest that night. Her body may have attempted to sleep, but her mind was on overdrive and all she did was toss and turn.
-*-
Katherine Hillard, the second Pink Ranger was finally coming to terms with her powers. From the first time she had morphed though, she had been growing tired and weak. There was no reason to worry the others, so she accepted that it was just a part of morphing.
The transition into filling Kimberly's shoes wasn't exactly the easiest. Unlike the others, her background in Martial Arts wasn't much, if any. She was a Diver, an Athlete, but a fighter? Her confidence wasn't there, but she actually stepped into those shoes quite well. At first the power guided her, she learned from the others, and things just became easier. With each time she morphed though, it was like something left her.
Recently she had been getting dizzy spells, luckily not in front of the others, but in moments where she was in her bedroom, or walking to school. Kat knew that if these were going to continue, she would have no choice but to confide in the others and even Zordon. At one time, towards the first month of her Ranger career, she had thought about telling Kimberly – asking her if it had ever happened to her. But she knew the answer. It did affect Kimberly, but when the coin was under Zedd's control. She also felt guilty still to this day for that, among other things. Those other things being about the sudden break-up letter that Kimberly sent.
Kat had been so excited to be given just the chance to be a Power Ranger, and the group of friends that she had made – especially Tommy. It was wrong of her to have any feelings towards him besides friendship, but it wasn't exactly easy to stop them. She never told Kimberly of these of course, but it didn't stop her from boasting about her experiences, and how close the team seemed to be. At the time it seemed right, but as she looked back on it now it seemed wrong. If the shoes were reversed, she wasn't sure she could handle that. Apparently Kimberly hadn't been able to. Everyone had sent her letters, tried to email her, and even called directly to the school, but every time there was no reply.
Today was a great day, no a fantastic day for the Pink Ranger. She had designed a house model in her Drafting class, and it was chosen for the Humanitarian Housing Project. The others were glad to pitch in, which she was thankful for, but what she was excited for was the final project; to see the faces of the family that this house would be for, and to feel the accomplishment of helping people. She felt a little bit of that every day when the Rangers destroyed another monster, and protected Angel Grove, but with this she had an opportunity to help someone, and gain recognition for it besides being an unknown savior.
The project seemed like a lot at first, but after all of the volunteers they got to help, it became more of a reality versus just a dream. The progress that everyone had made was truly outstanding, and as Katherine called everyone together to end the day, she was offered to go along with the team to the Youth Center, for a quick snack. She declined however, but agreed to meet up later after she took some pictures for her scrapbook.
Little did she know, the watchful eyes of Lord Zedd and Rita Repulsa were always on her now that she was a Ranger. Unfortunately what starts out good always seems to turn bad. At least if you are a Power Ranger.
Katherine took a few photos, making sure to get the right angles. She returned hoping to wake Bulk and Skull only to see Rito, and a few Tengas.
Bulk and Skull were off before she could even try to help them, screaming just like always. But it seemed as if the Tengas' new project was to destroy all the hard work she and the others had done. "No, you can't do this!"
Rito smirked while turning to her. It was always perfect for one of the rangers to be alone, that way they were vulnerable, and easy to take down. Or at least that was what he believed. "We're the clean-up crew, and we are here to take out the trash." He ended with his usual, annoying laughter.
"Ninja Ranger Power, now!" Wasting no more time, Kat cried out as she summoned her abilities – the abilities that had been secretly draining from her, and returning to another. The Crane spirit however still protected her, at least while she was morphed. Her body soon was clothed in the sacred Ninjetti robes, and she took off for the battle.
Kat avoided the Tengas that were surrounding her and launched herself into the air, catching a group of flowers that were thrown into the air. She gracefully flipped over them, getting back enough for her to try and call for help. There were still too many, and with the unstable power, she wasn't sure if she could do this alone. "Zordon, Rito's attacking the construction site!" The Tengas weren't procrastinators, and weren't about to leave her a moments peace. They gathered around her, making Kat end the call, to resume the battle. Her leg thrust out and she twisted in their grip. "I need help!"
Even though the battle had barely begun, she was still experiencing a drain of some sorts, and she continued to struggle with keeping the power stable. "Hi-yah!" She dodged a swipe from one of the wings and propelled herself forward again, going into a quick handspring. Kat dropped down and thrust her hands out, knocking two of the Tengas down. She saw the 5 colors of lights in the sky and jumped back forward, going towards them. "I'm glad you're here!" She stood behind Tommy and the Ninja Rangers stared down the threat.
"Let's go!" Tommy brought his team together and they each went off into groups. White went with Red, Blue went with Black, and Yellow went with Pink.
The battle was over, with Rito disappearing like the coward he was. This was obviously just a random attack, set forth to go against Kat rather than them all.
"Guys! Something's wrong!" Aisha had already demorphed and her voice had both panic and concern laced in it. She was dropped down by Kat's side, Kat being in an unconscious form with pink worms of light dancing across her entire body.
Rocky ran to Aisha's side and powered down as well. He looked at Kat's body and then back at Aisha. "Did you see what happened, 'Sha?"
Shaking her head no, Aisha looked up at the others when they arrived. "She dropped before and I came over to help her. When I was finished with the Tengas I saw she was already unmorphed. I don't know what happened…"
The familiar sight drifted Tommy's mind back to an instance when this happened before. Only instead of the tall, blonde, it was the petite brunette who he was thinking about. The time where this happened to Kimberly, it had scared him more than any other. He honestly wasn't sure if she could live through this. He experienced the Green Powers draining from his coin, but at least he had the Power coin; Kimberly's coin was in the hands of Lord Zedd. But now it was happening to Katherine, but the one question that remained was: why?
Tommy brought his wrist up to his mouth and pressed a button on his communicator. "Zordon, this is Tommy. Something's wrong with Kat, can you teleport us back to the Command Center?"
Within seconds, lights of: White, Black, Pink, Yellow, Blue, and Red were sent through the sky and into an unknown location, into the Command Center.
Tommy had picked up Katherine's body before being teleported. He walked off of the platform and took her and gently laid her on the bed just to the rear of the central commands.
"Why is this happening Zordon? Kat has the Pink Crane coin." Tommy asked once returning. Even being leader, and knowing what he did about how the coins were tied to each individual, he couldn't come up with reason this time.
"Unfortunately I do not know Tommy. I am not fully aware of how the Ninjetti coins affect each and every one of you. But there may be someone who will." Zordon looked down at Alpha. "Teleport Dulcea from Phadoes."
"Right away Zordon." As the ever faithful robot started to press the buttons that would retrieve the Queen of the Ninjetti, the other rangers were left in utter confusion.
"Dulcea? Don't you mean Ninjor?" Billy being the ever quizzical one, and the bright genius that he was had no inclination who this Dulcea was, and wondered why Ninjor wouldn't be summoned. He was the creator of the Ninja coins, correct?
"You are half correct Wolf." A strong voice echoed throughout the Command Center as a brown light transpired and the Ninjetti Queen revealed herself. Her dark leather cloak covered her defined features, but her hood was down to let her curly dark blonde locks run down her shoulders and back. "Ninjor was a student of mine. We trained together for nearly a century, and he helped me create the Ninjetti Coins. But it is I who look over the spirits, who bestow them into individuals who deserve them. And unaware to you all, I was there the day you sought out Ninjor's Temple, in the Desert of Despair." She walked onto the platform and looked up at Zordon, and then down at Alpha. "Zordon, Alpha, it has been too long."
"Welcome Dulcea." Zordon greeted his friend proudly. He knew that somehow, she would be the last resort for the Pink Ranger, and the Pink Powers. There hadn't been a point where they were stable. From the moment the coin was taken, the powers had been unstable – continuing even after Katherine took them. "You are aware of the situation. I myself cannot explain what is happening, so is there reason to believe that somehow Lord Zedd has hold over the Crane coin? Is there some interference between the evil that was once bestowed into it?"
"The Crane is unstable, because of who the powers belong to." Her answer wasn't questionable, her voice proving its strength and its certainty.
"What's wrong with Kat? Why can't she hold the Pink Ranger powers? We've all had power transfers in some way before, and this didn't happen." Adam spoke up this time, referring mostly to himself, Rocky, and Aisha as they were the successors for Black, Red, and Yellow.
"She is not the Crane. She can never be the Crane. When you all went searching for your Ninja powers, I was there that day, as I've already said. When you formed a circle and connected your hands, I was the one that transferred a Spirit into you: the Falcon, the Crane, the Frog, the Bear, the Wolf, and the Ape. Zordon must have not known that when you are given a spirit, specifically by me, it merges with your own soul. If someone tries to remove it, the cause is devastation."
"Kim…" The Rangers all took their glance towards Tommy then. It had been a unified agreement that they wouldn't bring up Kimberly around Tommy. And since then, her name rarely had been mentioned, though each of them had tried to reach out to Kimberly, but still failed. "I mean… is this because of Kimberly? Is it because she left?"
Dulcea turned to the Falcon and smiled. She knew of their destiny, of what the legends told, but now that could all change because the Crane not only is weak, but has also left the Falcon's side. For thousands of years the two spirits had been side-by-side. Even if distance separated them, they were not united, not even close. "Do not place blame on anyone, Falcon, especially the Crane. Circumstances changed, the tides of fate altered. But there will be blame to be passed if she doesn't retain the power." Her glorious smile turned upside down and she walked over to the bed in which Kat was resting on. "If we do not hurry, Katherine could be lost forever. The Crane is protecting her, but at the same time, she is harming her. The spirit is torn. Unless Kimberly returns to reunite with the Crane, Katherine will perish."
It was safe to say that the spirits in the room tremendously lowered. This now involved life, and death. In the battles before there was always the worry that something horrible could happen, but now death could happen not because of evil, but because of their mistake. Even if they were completely oblivious to what Dulcea just informed them of, they still accepted that Kimberly could leave, they still let her transfer the power to Kat.
It was now their responsibility to carry.
"I'll go and see Kim." Aisha, the Yellow Ranger, best friend to Kimberly Hart, rose before anyone else. "She was there for me so many times, and after all that has happened, I think I should be the one to tell her-"
"No. The Falcon shall go." Another twist and turn was thrown at the rangers by the Queen and 5 mouths dropped partially. Kimberly had broken Tommy's heart, through a letter of all things, so why now would Dulcea decide that Tommy should be the one. If anything wouldn't he be the one thing to convince Kimberly not to come back?
"I don't think Tommy should go. Kimberly and Tommy aren't on speaking-"
Now Rocky was the one to be interrupted by the demanding Dulcea. She almost seemed angered with her reply. "I don't mean to be harsh, but whatever happened that separated the Crane from the Falcon has no purpose here. Humans choose their paths, the spirits are forced to follow. They guide, but ultimately it is the human's decision. Katherine can and will die unless Kimberly returns. I have kept silent, I have stayed out of destiny, but this I will not argue with."
Aisha turned to Zordon, hoping their leader would put trust in her, and let her go. "Zordon, isn't there another way? I think it's best for everyone if I go."
"Aisha, I'm sorry but I have to trust in Dulcea. It was my ignorance of this situation, and my ability to not look into the future to see the grave outcome that would come from Kimberly's absence."
"Sorry guys, I tried… it looks like Tommy is going." Aisha walked back over by Rocky, but kept a watch on Kat who seemed so peaceful. It still didn't look like her life was in danger, but after what they had all seen, they had to put their trust in the woman from Phadoes.
"The Wolf shall join you." Dulcea pulled up her hood as she stepped off of the platform, preparing to leave. "I cannot stay on this planet any longer, but heed my words. This will be a trial of tribulations, it will not be easy in bringing Kimberly home. I shall keep two watchful eyes on you and I pray that you are able to change her mind."
Alpha pressed a button on the control panel, and everyone watched her disappear in that same brown light.
"Rangers."
The 5 conscious ones turned towards their leader, and mentor. They were all in doubts, especially Tommy who wasn't sure how he could take the encounter with Kim so soon. But this was for Kat, this was for her life, and possibly for Kim's life as well. It was the determination that switched over in Tommy, giving him enough strength to do this, with the intent to succeed. Kimberly was first his friend, and on his part he had rejected that, but it wasn't about them anymore, it was about Kat, about everyone on their team.
"Before Tommy and Billy depart, we must remove the power from Katherine." Zordon's eyes casted down onto the helpful robot again. "Alpha, please bring up Kimberly on the Viewing Globe." As Alpha worked on finding her, Zordon returned his eyes to his rangers. "By summoning the Sword of Power, we can transfer the power from Katherine, into Kimberly via the Viewing Globe. She won't know what's happening. However, we will need Kimberly back here to release the Crane spirit from within Katherine. After we transfer the power, I will allow you access to teleport to Florida."
Tommy glanced at the Viewing Globe, and as he did his heart literally skipped a beat. Kimberly was on it, and was practicing on the beam in a barely lit gym. Even with the lack of light he could still make out her features. He couldn't believe how small she was. Kimberly had never been anything but thin, anything but small, but even there she looked almost unhealthy. He wondered what other issues they would encounter with trying to bring her back. "Let's do this guys…" He spoke in a whisper and they all formed around Katherine's bed, forming a circle. The Rangers took their Power coins from within their morpher and held them tight in the palms of their fists.
"One, two, three, go!" Tommy shouted and on command, all the rangers thrust their fists out, a light shining from every Power coin, the transfer sword levitating over Katherine. Like before, Tommy grabbed onto it and pointed it over Katherine and then towards the Viewing Globe. The worms of pink light that had been surrounding the Australian's body started to swirl around the sword, and then they moved through the Viewing Globe and into Kimberly's body. The body that froze on the beam, and then fell to the ground unconscious, once the power had entered her.
Once the power had successfully transferred back into Kimberly, the sword disappeared after the Ninjetti coins glowed once more. Katherine's body remained in the same state, minus the pink worms of light. The color however in her face was back, and her breathing was normal.
"Tommy, Billy. I trust that you both shall bring Kimberly home. Aisha, Rocky, and Adam shall remain here in case there is an attack. Please remember, Katherine's life hangs in the balance."
Tommy looked at Billy, and the two shared a glance with the other three before they teleported in streams of white and blue light.
-*-
Arriving just outside of the Gym, Billy put his hand on Tommy's shoulder. Words or gestures couldn't help in what Tommy was about to face. Billy only knew some of the pain he was going through. He still hadn't worked up the courage to tell Trini his feelings, but Tommy had but he also lost those feelings. "I know that you, more than anyone else, can get her back."
Tommy managed a smile for his friend, but deep down inside his stomach was a wreck. He didn't want to do this. He didn't want to face her.
Tommy pushed open the doors and his eyes widened when he saw Kimberly on the floor. "Kimberly!" Apparently they all missed Kimberly falling off of the beam. He darted across the floor and dropped down on his knees by her side. He lifted her up some, her head resting in his lap as he patted her cheek softly. He stroked his thumb against her cheek almost instinctively and urged her to come around.
When Kimberly's eyes fluttered open, a smile couldn't be stopped as it reached Tommy's cheeks. "Hey Beautiful, it's time to wake up." The words echoed from over a year ago, but they couldn't be stopped. Not even if he had wanted to. They were broken-up, that was for sure, but Tommy still couldn't let bad habits die. His forgetfulness would always be a problem, and his caring for Kim would never, -ever- go away. Though as she started to speak, he felt himself withdrawing. His smile turned into a frown and he just held her, so she wouldn't fall.
"Tommy… is it really you?"