Post by Jade_Max on Jan 22, 2009 20:07:34 GMT -5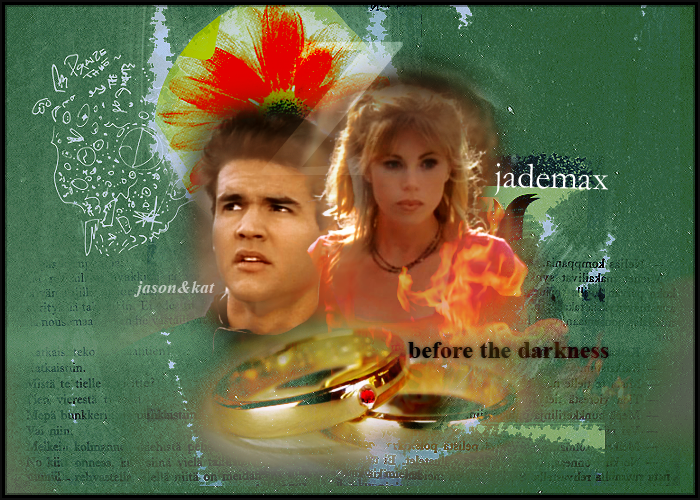 Disclaimer:
Power Rangers belong to Saban/Disney (whomever owns them this week) and it's their sandbox; I'm simply destroying the sandcastles.
Title:
Before the Darkness
Author:
Jade_Max
Timeline:
AU
Rating:
T (for now - may change)
Summary:
Katherine Hillard comes to Angel Grove in her Freshman year shortly after Tommy's joins the Rangers on the side of good...
Notes:
This is set in the alternate universe to "
Semper Fi
" which is co-written with chrisangelo
Special Thanks:
to chris (scorpio) for brainstorming and egging me on to do this – and for making the fantabulous graphics for this

----------
Before the Darkness
Katherine Hillard checked the straps of her backpack as she glanced back over her shoulder a final time where her mother was pulling away from the curb. Taking a deep breath, she looked up at the imposing structure where she'd be spending her high school years. Freshman year was never easy for anyone - and none more so than a foreign student new to a small town like Angel Grove.
Despite her mother's assurances that Angel Grove would be good for her, there was never anything easy about joining a new school after the start of the year. Katherine had left Australia behind, her dream of reaching gold for diving at the Pan Global's dashed by a last minute transfer in her father's company; with that dream had stayed her friends, her coach and everything familiar in her life.
Miserable, Katherine trudged into the school as she watched her surroundings. She wasn't an outgoing teenager, and the diving had done wonders for her confidence, but today she felt small and alone. She'd never even moved houses before, let alone to a new country, and she was nervous about the change. Nothing here was even remotely familiar.
A quick trip to the Principal's office where she met the office staff, was coaxed into a smile and cringed when the gruff manners of the toupee wearing tyrant who ruled the school - Principal Kaplan - directed her immediately to her first class.
English and Social Studies would take up the remainder of her morning, but only after one of the kindly secretaries removed her from the office and led her through the corridors. There was no tour - just a small map pushed her way along with a booklet that explained the school's rules and regulations - as the professional assistant marched her through the hallways. At the base of one set of stairs near an exit to the court yard, the kindly lady stopped and consulted something in her hand.
A lock on one of the lockers was quickly dialed and then opened, revealing an empty place where Katherine could store her books. Quickly using the opportunity, she slid her backpack into the empty space, pausing only long enough to accept the slip with the locker number and combination on it into her pocket and retrieve the books she'd need.
The secretary didn't say anything as Katherine locked the locker, simply waited until the blonde was finished before marching her across the hall. Opening one door, she knocked on it briskly. "I've another one for you, Mrs. Applebee," the secretary announced cheerfully, leaving her in the doorway to the room with no more of an introduction than that.
Mrs. Applebee, a plump woman with a warm smile, motioned for Katherine to step further into the room. "Well, don't just stand there," she encouraged. "Say hello to the class and introduce yourself."
Heat flared into Katherine's cheeks as she stared at the toes of her books, suddenly - and intimately - understanding how mortified all of the exchange students who'd been forced to do the same at her former school had felt. Taking a deep breath, she tilted her head and looked at the teacher through her lashes.
"Katherine Hillard, Mrs. Applebee; I'm from Australia."
"Australia!" Mrs. Applebee sounded just delighted - and then confirmed it as she clapped her hands together. "How delightful; I love your accent. Find a seat, Katherine - you can introduce yourself to your classmates later."
Not even bothering to take a look around the room, Katherine settled into the nearest empty seat and slumped down, hunching her shoulders forward as she fought against the embarrassment of that introduction.
Surprisingly for Katherine, despite the awful beginning to her morning, her classes, lunch came before she realized what the bell for it meant, saving her from the interminable babble of a science teacher more boring than the one she'd left back home.
Escaping, Katherine was the first out the door - her seat had been closest to it - and she darted for the hallway. One of the things she'd noticed was that both of her morning classes were close to her locker - which left her close to the court yard.
Stopping by her locker, Katherine kept her head down, failing to notice she'd garnered the attention of a group of friends from across the hallway. A group of six students, all of which were looking at her curiously - if not kindly. Opening the door, Katherine grabbed her backpack - which contained her lunch - and closed the locker before heading straight to the doors leading to the court yard without looking around.
The sunshine on her face was an immediate relief, even if it was weaker than what she was used to, and she tipped her head up, straightening her shoulders for what felt like the first time in hours. California was pretty, but not nearly as warm or as beautiful as Australia.
"Well, look what we have here, Skull," a voice from behind her drawled. "If it isn't the blonde Aussie blocking access to my favorite lunch spot."
"Yeah, she needs to be taught a lesson, Bulky!"
Katherine whirled, her eyes widening as two young men, both dressed in leathers, approached her. The larger of the two eyed her nastily, reaching out to grab her bag. She tried to keep it away but wasn't fast enough, and he snatched it from her hands.
"What have we here... A brown bagged lunch," the larger of the two bullies opened her bag and pulled out the lunch.
"Give it back!" Katherine's plea wasn't as forceful as she'd hoped.
"Or what?" The slimmer of the two wanted to know as he pulled a sweater from her bag - and promptly dropped it in the dirt.
"Please give it back, my school books are in there."
Both bullies laughed in her face. The larger one held it out of reach - and Katherine wasn't a short woman - as the smaller one distanced himself from them. She grabbed at it, but the larger boy threw the bag and its contents to the other one. "Catch Skull!"
"Stop it," Katherine jumped for it, but missed, watching helplessly as a couple of her books slid from her bag along with a pencil case and walkman.
The boy named Skull laughed and danced away. "It's mine now, Blondie!"
Her bag went back and forth, spilling another couple of items here and there until Katherine swore the bag was practically empty - and she was in tears. Jumping for the bag one last time - and yet missing again - she hit the ground and collapsed. "Just leave me alone!"
"Are you gonna cry?" The larger boy taunted. "Look, Skull, we made the little blonde Aussie cry!"
The skinny Skull laughed, delighted by her misery.
"I think you guys have done enough." A new hand snatched the bag from the air and a tall body interposed itself between Katherine and the bullies. "Get lost, Bulk."
"Why should we?"
"Yeah, why should we?"
The boy before Katherine crossed his arms over his chest - he must have because the black jacket stretched across his muscular shoulders - and his head tilted dangerously. Katherine couldn't see him very well from where she was sitting on the ground, and suddenly she didn't want to. Bowing her head, she let her blond hair curtain her face as she wiped one hand across her eyes, trying to stem her tears. Her rescuer growled something low at the two bullies - obviously intimidating - and Katherine heard them dart away.
Bulk, the large bully, stopped inside the door. "This isn't over Jason!"
"Yeah!" Skull echoed forcefully.
The two disappeared back into the school as Jason watched, shaking his head, his face set in grim lines. Turning back to the disaster in front of him, he noted that the shoulders of the young woman whom he'd saved were still shaking as she struggled to control herself. He sighed, expelling his annoyance at Bulk and Skull, and crouched down to her eye level. "Hey."
Katherine couldn't look up as the young man the bullies had called Jason knelt to her level - but she liked the sound of his voice, the gentle tone he was using. His blue jeans tightened across his muscular thighs as one knee hit the ground.
"Thanks," she offered softly, sniffling.
"No problem." A large, tanned hand appeared in her line of vision extended for a handshake. "I'm Jason; and you are?"
Daring to life her head, she opened her mouth to respond - and stopped, speechless. Before her was one of the most handsome men she'd ever met in her life. Not handsome in the way some men were beautiful, but handsome because he had character in his face. His eyes were a serious brown which warmed as she watched, something in the depths catching her and momentarily stealing her power of thought. Her mind blanked as she stared at him, a tear slipping down her cheek unnoticed as her eyes dried, unable to tear her gaze from that mesmerizing set of brown eyes.
"Did they steal your voice as well as your bag?"
The tease was gentle, the humor in those brown orbs catching her completely off guard - and bringing her back to her senses. Color flooded her cheeks as she became aware of the fact she was staring into his eyes unabashedly when she didn't know anything about him except his name - and he had come to her rescue. Belatedly, she realized he'd asked her not one but two questions... and she'd answered neither.
"N-no," she stammered, trying to quell the nervousness that had suddenly sprung up. "I..." She glanced down to where his hand had dropped easily to that denim covered thigh; looking away from those orbs seeming to be the remedy to the off kilter feeling she had when looking at him. Trying again, she offered her hand this time. "I...I'm Katherine."
His hand closed about hers without hesitation and she felt as if she'd been electrocuted as every hair on her arm stood on end and a delicious sliver of awareness raced upwards from the contact to dance down her spine. Something about him was magnetizing. "I'm pleased to meet you, Katherine."
"Kat," she prompted unthinkingly, looking up again before she thought better of it. "My friends... call me..."
Jason smiled and it stole her breath completely away. "Kat, then."
Effortlessly, he rose - keeping her hand in his - and drew her with him, their palms seemingly glued together for he didn't relinquished her hand - and Katherine couldn't have reclaimed hers if she'd tried.
"Are you alright?"
Her blush deepened and she snatched her hand back, reeling from the sudden overwhelming physical and emotional upheaval that had tilted her world on its axis - and hadn't yet righted herself. Meeting Jason had changed something within her, she just didn't know what yet. Looking away to gather her wits, she nodded even as her gaze fell on the mess Bulk and Skull had made of her backpack's contents.
"I'm alright. I don't think my lunch is though."
Jason followed her gaze to the squished, sorry looking splatter that had been her lunch and winced - she caught it out of the corner of her eye. His head swiveled around, taking in the destruction and then he shook it. "Sorry I didn't get here sooner."
"No," Katherine turned to look at him, an embarrassed smile on her lips. "Thank you for stepping in Jason. I don't even know you and you were willing to help me."
"Would you like to change that?" He bent to pick up a nearby book and her pencil case, sliding them back into the bag he still held in his hand.
"You helping me?"
"Knowing me," he flashed a smile her way, moving to pick up another book. "If you want to that is."
Her heart leapt in her chest and seemed intent on battering its way through her ribs. Know him better? Yes, oh yes! "I... I'd like that," she managed shyly while every part of her was screaming in delight at the prospect. "I don't know anyone here yet."
Jason slid the book into her bag and turned to face her again - this time she noticed one of his ears was pierced and the red of his muscle shirt under that deliciously, sinfully tight jacket. "Well, then it's only fair to warn you; I'm part of a set."
Her heart plummeted almost to her shoes. "A... a set?" She couldn't seem to help repeating the comment.
Jason winked at her. "A sextet to be exact. Tommy's relatively new to the group, but you'll probably get along just fine with Trini and Kim - they're some of the nicest people I know."
"Your... sisters?"
Jason laughed - and the sound almost curled her toes. "They might as well be - they're some of my best friends since childhood. Just don't let Zack's teasing or Billy's techno babble bother you; it's just how they are."
"They sound like an..." how did she put this nicely? "an... um...
diverse
group."
Jason tilted his head back and shouted with laughter. "Kat, they're going to adore you." Katherine, buoyed by the compliment and charmed by his laugh, smiled in return - and it almost froze on her face with his next words. "Would you like to join us for lunch?"
Unthinkingly, her gaze went back to the destroyed brown bag lying nearby as she frantically tried to think of a reason why
not
to go. It wasn't that she didn't
want
to, but she wasn't exactly in the best of shape having just come off a bout with the bullies. Without looking in a mirror, she was certain her mascara had run and left black lines down her cheeks. Halfheartedly, her cheeks flaming with embarrassment at the mess she must be, Katherine swiped at her cheeks and looked away.
"No?" Cocking his head so he could see her profile, Jason smiled faintly, his tone turning cajoling. "I'll share mine with you; it's the least I can do when I was too late to save yours."
Her lips twitched. "I must be a mess."
"If you are, I haven't noticed." Pulling a red kerfchief from the inside of his coat, he offered it to her. "But if you think so, I can always wait until you think you're cleaned up enough."
"I couldn't ask you to-"
"You're not; I'm offering."
Katherine fell silent, feeling trapped for a moment - until she glanced his way and their eyes locked again. What she saw stole both her breath and her desire to say no. Warmth and concern, both sincere, spoke to her in a way that nothing he said ever could. She found herself nodding before she could say otherwise, and his resulting smile - slow as molasses and sexy as sin - lodged in her chest near the vicinity of her heart.
"Is that a yes?"
Finding her voice, Katherine noted it had little power, but that didn't seem to matter. "I'd love to."