Post by Jade_Max on Jul 28, 2008 22:51:26 GMT -5
Chris convinced me to post this since it's still in the process of being written - any and all comments/suggestions etc are welcome to help me progress... thanks in advance!
Oh and he made some beautiful graphics for it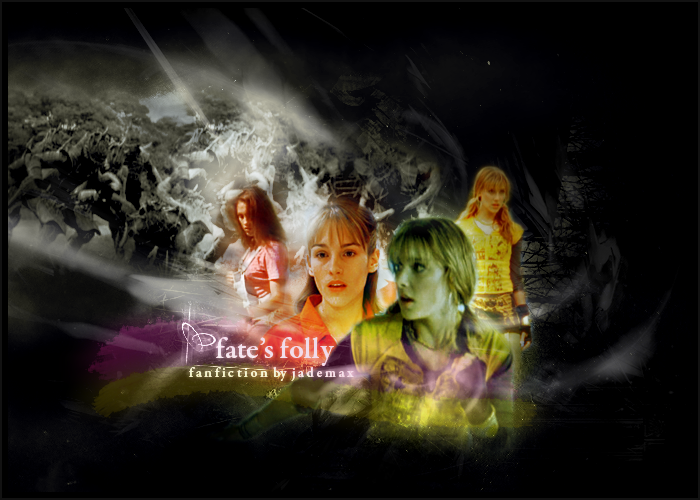 July 2008
Title:
Fate's Folly
Author:
Jade_Max
Rating:
M to be safe for later chapters
Disclaimer:
Power Rangers and their affiliates belong to Saban/Disney and are used without permission and no money is being made off of this.
Author's Note:
Set directly after PRDT Episode - Golden Boy; AU after that.
Special Thanks:
Huge thank you to chrisangelo for brainstorming with me on this one! I got stuck in the middle of the original chapter 2 and he really helped me a lot to take this in the direction I wanted it to go! Thanks man!
Summary:
There are those who are blinded by fate, and those who accept it.
Fate's Folly
[/u]
Chapter 1
[/i]
Kira, Conner and Ethan settled around a table in Haley's Cyber Café, sliding their books on the table.
"Not performing today?" Ethan's light tease was directed Kira's way with a nod to the stage.
"I could ask you the same thing," she returned, looking pointedly at the row of computers that was sitting mostly unused at the back of the café. "Don't tell me your game shy."
"Nope," Ethan held up his text book. "I'm just reading ahead for Doctor O's class."
"Reading ahead?" Conner's blank look was almost comical. "
Why
?"
"Why not?"
"Because… because it's more homework!"
Kira laughed, shaking her head as a hand reached down to place her smoothie on the table. She looked up with a slightly shy smile. "Hey, Trent."
"Hi." His smile was easy, his gaze direct. "Can I get you guys anything else?"
"We're good." Conner looked to his companions. "Aren't we guys?"
Ethan and Kira nodded, Kira turning her gaze back to the table and the smoothie Trent had brought her. She knew he was waiting for an invitation to sit down, to join them, but she didn't dare voice it. When she'd made a mistake that afternoon in speaking with Trent while in Ranger form, she knew now she couldn't chance having him figure out that she was the Yellow Ranger. If he did, she hadn't a clue what he would do with the information. She didn't know him well enough to guess - no matter how much she wished otherwise - and she couldn't risk it.
"Alright." Trent's words were easy but Kira winced at the hurt she could just make out underneath it. "I'll see you later."
Ethan leaned across the table as Trent turned to help another table. "What was that about?"
"Yeah, normally you ask him to join us."
Kira glanced around to ensure no one was nearby before leaning forward into the huddle with her friends. "I called Trent by his name out there today. If he hears me talk, he might figure out who I am."
Ethan and Conner shared looked as Kira sat back, miserably contemplating the smoothie on the table. With a decisive move she grabbed her bag and packed her books back into it. "I'm going to head off, guys. I'll catch you later."
"Kira-"
She stopped, managing to smile for Ethan. "I'm going to find Doctor O. Maybe he knows something that can help. Who knows, maybe he had to deal with this before too."
Neither Conner nor Ethan tried to stop her and Kira did her best to ignore the look Trent shot her way as she headed for the door. Haley was behind the bar, watching her, but Kira averted her gaze so she could honestly say she hadn't seen any signal Haley might use to indicate they should talk.
Escaping the Cyber Café, she headed for the edge of town and the well used path between it and Doctor Oliver's home.
Things were quiet, for once, as she walked and Kira was grateful Conner hadn't offered her a ride since she felt she'd need the time to sort through what exactly she was going to tell Doctor O. She couldn't very well just come out and ask him about Trent - he'd think she was interested or something. And while she was ready to admit that Trent appealed to her - not only was he handsome but he was nice and not at all the spoiled rich brat people expected - she wasn't ready to face the questions those admissions might bring up.
It wasn't like Trent had asked her out or anything. No, she considered him her friend - her really cute, terribly distracting friend - but a friend none-the-less and she wanted to be sure he wouldn't recognize her.
"Kira?"
She jumped, dropping her bag as she spun about in surprise. "Doctor O - you scared me!"
Tommy Oliver arched his eyebrows in surprise. "Deep in thought, huh?"
Kira blushed, nodding.
"I've been known to do that too. Can I give you a lift?"
Kira scooped up her bag and climbed into the passenger side of his Jeep, feeling slightly foolish. "I was coming to see you, actually."
Tommy put the Jeep back into gear as he turned off into his driveway. "Something on your mind?"
Kira looked down to her lap where she was twisting her fingers together. Stilling them abruptly, she clenched them together to prevent the nervous fidget. "Can I ask you something, Doctor O?"
"Sure." The vehicle slowed around a corner as Tommy navigated the narrow drive lane leading towards his secluded home. "What's up?"
She took a deep breath. "How did you keep people from discovering you were a Ranger for so long?"
Tommy turned the last bend and applied the brakes. "There are quite a few ways I could answer that," he admitted as he stopped the car and put it in park. The engine died as he shut it down and unclipped his seatbelt. "I get the feeling this question is more specific to a set of circumstances."
Kira busied herself with climbing out of the Jeep, pulling the strap of her bag over her shoulder with one motion before turning towards Tommy's cabin."I mean, how did you do it while you were pulling people out of situations or checking on them afterwards?"
Tommy came around the front of the jeep and leaned against it, his shrewd gaze not fooled for a moment. "If you're asking how I managed to keep my identity a secret from my friends the answer is that I didn't have to. I was a loner before I was a Ranger, and the Rangers befriended me before Rita turned me evil. Once they found out who I was, and I knew who they were, we just had to keep it from everyone else."
"What about your parents?"
"I never had to rescue them as a Ranger," his lips twitched. "Though I'm sure my mother would have recognized me in person if we ever had. Thankfully all she ever saw were short news clips."
Kira took a deep breath. "What would you have done if she had recognized you?"
"Has someone recognized you, Kira?"
"No. Not yet."
"But you think they will."
She sighed. "Trent's my friend, Doctor O. I feel bad about this whole thing because he doesn't know about Conner, Ethan and I, but I spoke to him today when we came to help you against that gold thing. I spoke to him like I knew him and he got all suspicious. What if he recognizes me?"
"Then he recognizes you." Tommy smiled faintly. "Chances are he's just like everyone else when it comes to the Rangers. They all believe the Rangers are super heroes, with magical powers and super human strength - and that they're all adults."
"Uh, Doctor O. We
do
have magic-like powers."
"Thanks to the Dino gems. Before, you were all ordinary kids."
"Like you were?"
Tommy shrugged. "It was a long time ago, but we never had the advantages the Dino gems give us. We had to rely on the skills we had and the training we could help each other with. Jason, Trini and I helped Billy learn to fight, but I think being a Power Ranger helped too. Our strengths as a team outweighed any personal weaknesses. We were stronger and faster than normal kids - but not so much that people would recognize us."
"So what do I do if Trent recognizes me?"
"You'll think of something."
"Doctor O!"
Tommy chuckled at her outraged and exasperated expression. "I can't tell you what to do, Kira. If it were me, I might have something to say, but no one I know is in danger of figuring out my identity. I can only make a suggestion."
"And what's what?"
"Immerse yourself in your favorite hobby, something that helps you clear your mind and find focus. When you're balanced and at peace within, you'll be able to act with a clear conscience on something you find unbalancing."
"You're no help at all!"
Tommy pushed off the bumper. "No? Try it and see, Kira. There's nothing to lose but a little of your frustration and helplessness."
She watched him walk towards his home, something in his stride tipping her off to an inner turmoil she hadn't been aware of before - something in her words had awakened a painful memory and it hadn't been her intention. "Doctor O?"
Tommy stopped, looking back over his shoulder at her.
"Is that... is that what you did?"
Turning to look at her assessing, he finally nodded.
"Did it help?"
"It didn't hurt." Tommy shook his head and strode back towards her. "Come on; I'll take you home."
Kira was silent as she climbed back into his car and buckled herself in. She didn't speak as he turned the jeep around headed back up the drive lane to the main road. Doctor O. had given her a lot to think about.
----------
Tommy watched as Kira closed the door to her house and pulled away from the curb. Unintentionally, her question echoed through his mind again; the hesitant, almost fearful way she'd said it making it hurt all the more.
"Is that... is that what you did?"
Driving on auto pilot, he examined Kira's question and why it had hurt so much - or rather, why it had stung to talk about the past when he'd believed himself to be beyond it all. He had done as he'd told Kira - focused on himself and his hobbies; focused on his martial arts to find his center and balance. Not only that, but he'd pushed himself to move beyond the impasse that his life had become. Stopping for a red light, he settled back in his seat, his hands clenching and unclenching on the steering wheel.
The impasse. That was a joke.
His life hadn't been at an impasse, but a complete stand still and he knew why - he still had the reasons tucked away in a box in his closet along with an unopened wedding invitation. Perhaps that was why Kira's question had stung so much - or perhaps it was because she and Trent and their situation reminded him so much of his own youth and... and
her
.
Their idealistic views, the way they danced around each other awkwardly, trying to be friends, yet secretly hoping for that much more - a badly kept secret at that. All of his friends during that period in his life hadn't found his interest to be anything but natural - and encouraged him in it. Of course, his own insecurities about how
she
felt - despite their reassurances - had complicated matters until she'd taken the first step in seeking him out.
Without that little kernel of encouragement, he doubted he'd have found the courage to ask her out. Or maybe he would have - he didn't know how history would have rewritten itself if she hadn't sought him out that day. It all boiled down to one thing.
Random chance.
Of course, if that had been the case and they're simply remained nervous friends - despite the obvious desires to try for something more - he would never have been in the situation he now found himself in. Instead he'd have been regretting his youth for the things he hadn't done, not the things he had. Not that there weren't things he regretted doing, but there were more regrets for what he hadn't done than those he'd accomplished. He didn't regret being a Ranger - but he did regret how that tenure had started. He didn't regret befriending the others - but he did regret how it had all ended.
He hadn't spoken with Jason in over nine years - not since the man had the gall to invite him to their wedding - Kat had all but vanished into her dancing and the others... they kept in touch sporadically. But it was the absence of his best friend and brother he regretted the most. The fact that it was his own actions, his request, which kept them apart didn't escape him, but it didn't make it hurt any less.
Those old wounds continued to fester, unhealed and unbound, just below the surface - but he knew that if he had the chance to change it, to bring Jason back into his life, he'd take it in a heartbeat. The reasons for their split –
her
choice - had dulled the ragged edges over time, but it hadn't allowed him to move on.
Gunning the engine as the light turned green, he peeled around the turn leading to his home and the sanctuary he'd created. He had new purpose now, a new life and the old one shouldn't have had any bearing on it. But of course it did no matter how much he didn't want it to.
Being a Power Ranger was about the only thing he'd kept as a constant in his life, despite the lulls in between.
Lulls
. He almost snorted at the thought. Ten years was quite a lull from something that had occupied his high school years. In fact, now that he thought about it, he'd only been a Power Ranger for a fraction of his life time.
Of course, that fraction had been more rewarding - and heartbreaking - than anything else.
The rewards far outweighed the losses - or so he told himself. All of the actions he'd taken in his past had led him to where he was today. They had made him into the man he'd become, no longer a fresh faced loner of a kid - instead he was a jaded, loner of an adult.
Making a face, he parked his Jeep and climbed out, reaching for his bag.
He didn't regret his decisions, but then not all of those decisions had been his to make and some had been made without him. Tommy had a love affair with control and that was probably why, even after ten years, Kira's question stung; the one decision he should have had some control over, he hadn't. It had been taken from him, stolen, by a simple piece of paper and the mistake of thinking everything was as it always would be.
Unlocking his front door, he left the memories on the outside of his sanctuary where they belonged and stepped inside.
He had work to do.